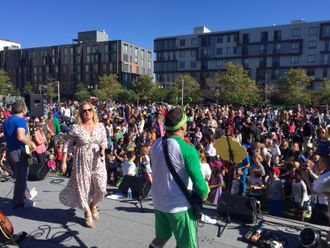 About Karen K & the Jitterbugs: 
Close your eyes, turn on your imagination, and join Karen K in the Bug Out, the fort in her back yard where she makes music with her imaginary friends, the Jitterbugs! Hop (electric guitar wielding grasshopper working on his self-control); Stinky (the drummer who loves playing outside but refuses baths); Slug Bug (loves a nap, and playing bass when he's not sleeping); and the occasional visitors, Love Bug (needs a lot of hugs); Bumble (doesn't believe in stinging); Waterbug (it's Summer somewhere!), Ladybug (prepare to dance) and Lightning Bug (who will help you activate your inner super hero).  Called "power pop sheen that makes them fun for the whole family" and named a "Must See Act" by The Boston Globe, Karen K & the Jitterbugs deliver one of the most entertaining live family musical experiences in the country. 
A captivating performer and prolific songwriter, Karen has been hailed for her genre-swirling, sometimes-silly-sometimes-tear-inducing songs that manage to inspire people ranging in age from zero to 99.  Karen and her Jitterbugs have been celebrated for all 4 of their award-winning albums featuring her original songs, including as winners of a coveted Parents Choice Award and as "Best Kids Video" for their YouTube hit "(I Woke Up in a) Fire Truck." Karen's music has been played on radio stations across the country including Sirius Radio XM's Kids Place Live and WXPN Kid's Corner, and featured in The New York Times, The Boston Globe, New York Magazine, The New York Post, Huffington Post Parents, Good Housekeeping, Broadway.com and Red Tricycle to name a few. Karen has also been featured on PBS and CBS-NY. 
Karen K & the Jitterbugs entertains audiences ranging in size from 10 to 10,000 at theaters, festivals, schools and venues up and down the East Coast and throughout the country. For bookings, videos, music and more, visit www.karenkjitterbugs.com or email bookings@karenkjitterbugs.com